Masterpiece of the International Exhibition of 1878, the jewelry cabinet showed by the Fourdinois house is a collaborative and successful effort between the Second Empire furniture genius, Henri-Auguste Fourdinois, and the designeur and sculptor Joseph Chéret (1838-1894), the sculptor, Alfred-Ernest Carrier-Belleuse (1824-1887), and the enameler, Alfred Thompson Gobert (1822-1894).
Already applauded in 1878, and rewarded with the Grand Prix of the exhibition, the jewelry cabinet is exhibited again in 1882 during the Exposition de l'Union Centrale des Arts Décoratifs, and in 1883 during the Amsterdam Exhibition to represent the national arts and industries on the French Pavilion.
Photography of the Fourdinois display during the International Exhibition of 1878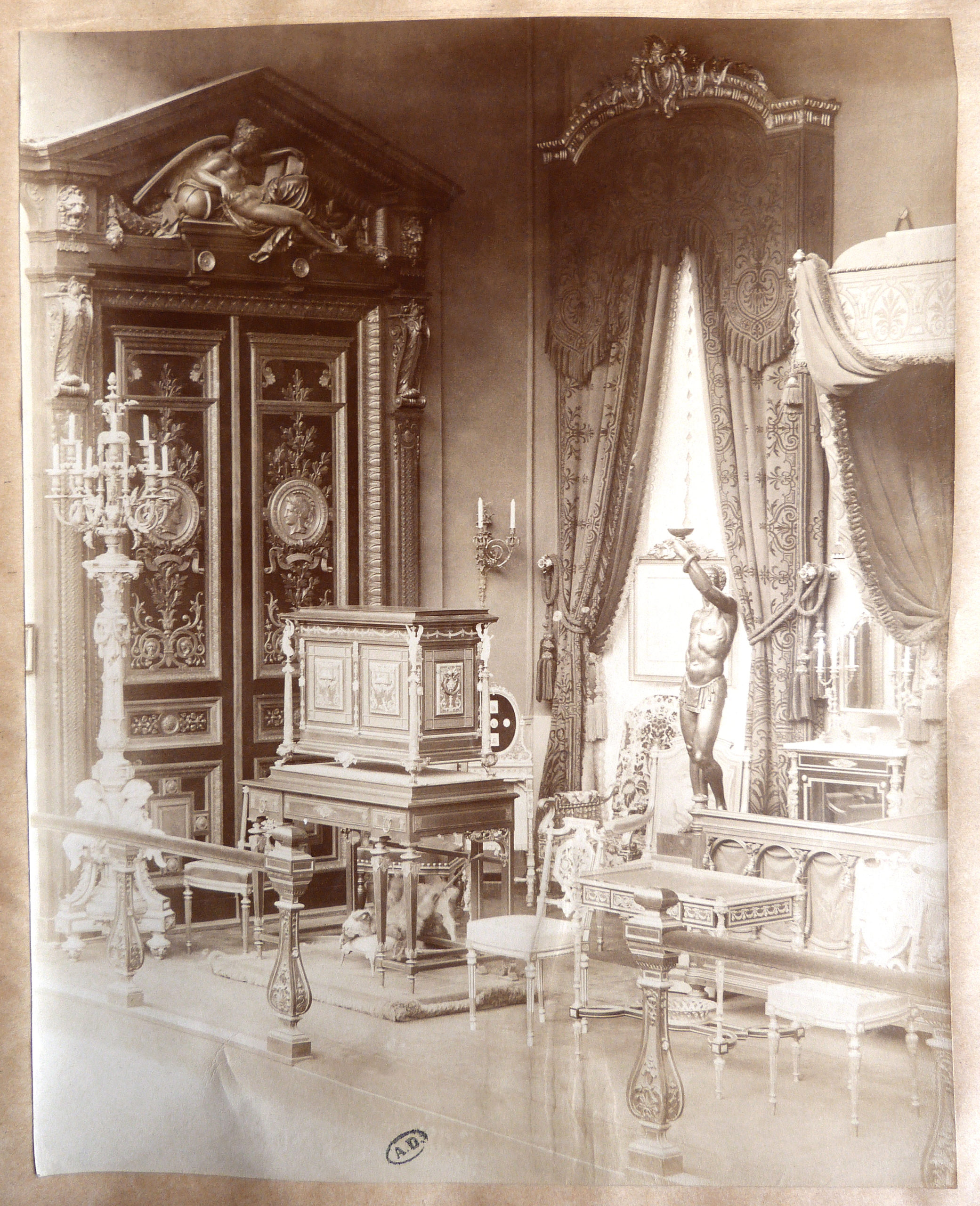 Photography of the Fourdinois display during the Exposition de l'Union centrale des Arts Décoratifs in 1882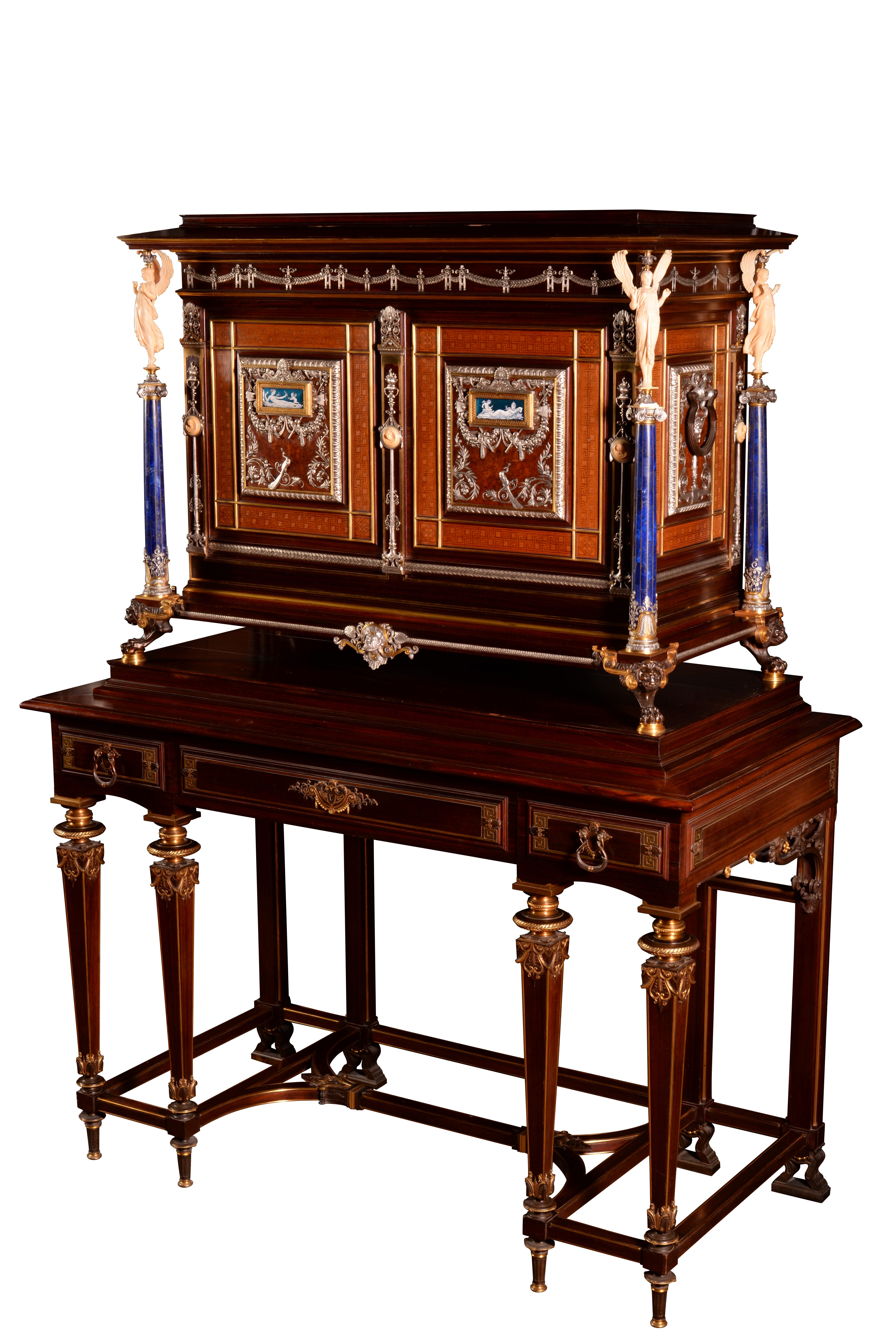 Material : Satin wood, silver, bronze, ivory, lapislazuli, velvet, satin, enamels
Localisation : France, 1878
Dimensions : H : 165 cm, L : 127 cm, P : 62cm
Jewelry cabinet
Like the most furniture produced by the company, the jewelry cabinet is a perfect balance between very precious materials – for instance silver, ivory, or lapis – with a breathtaking know-how in the field of furniture, tapestry and bronze.
Sale at Drouot
The catalog of the Fourdinois sale Beaux meubles. Anciens et modernes of January 24th and 25th 1887 in the Drouot Hôtel, preparing the liquidation of the company, described with these words the fifth lot, our jewelry cabinet  :
"Nice jewelry furniture put on a satin wood table, decoration in silver, bronze, ivory, Neo-Greek style. The lower part shaped as table with three drawers in the belt: the middle one with storefront knocking down to create a desk; in the inside a series of small drawers. It is supported by eight feet linked by crossties; the four feet in front are adorned, on the top and bottom, with finely chiseled bronzes; on the sides, a pierced and chiseled corner decoration. On the stride, a feet stool covered with blue velvet.
The chest is adorned with silvered and gilt bronzes. The frieze, pilasters and panels decorations are in massive silver chiseled and inlaid following the Fourdinois proceed. The four corners are provided with lapis and bronze columns surmounted by small winged statues in ivory, composed by Carrier-Belleuse. On the doors, enamels by Gobert surrounded by decoration and fruit garlands in chiseled and inlaid silver. The middle part is furnished with satin. It is supported by four claw feet and leans on an embroidered blue velvet carpet."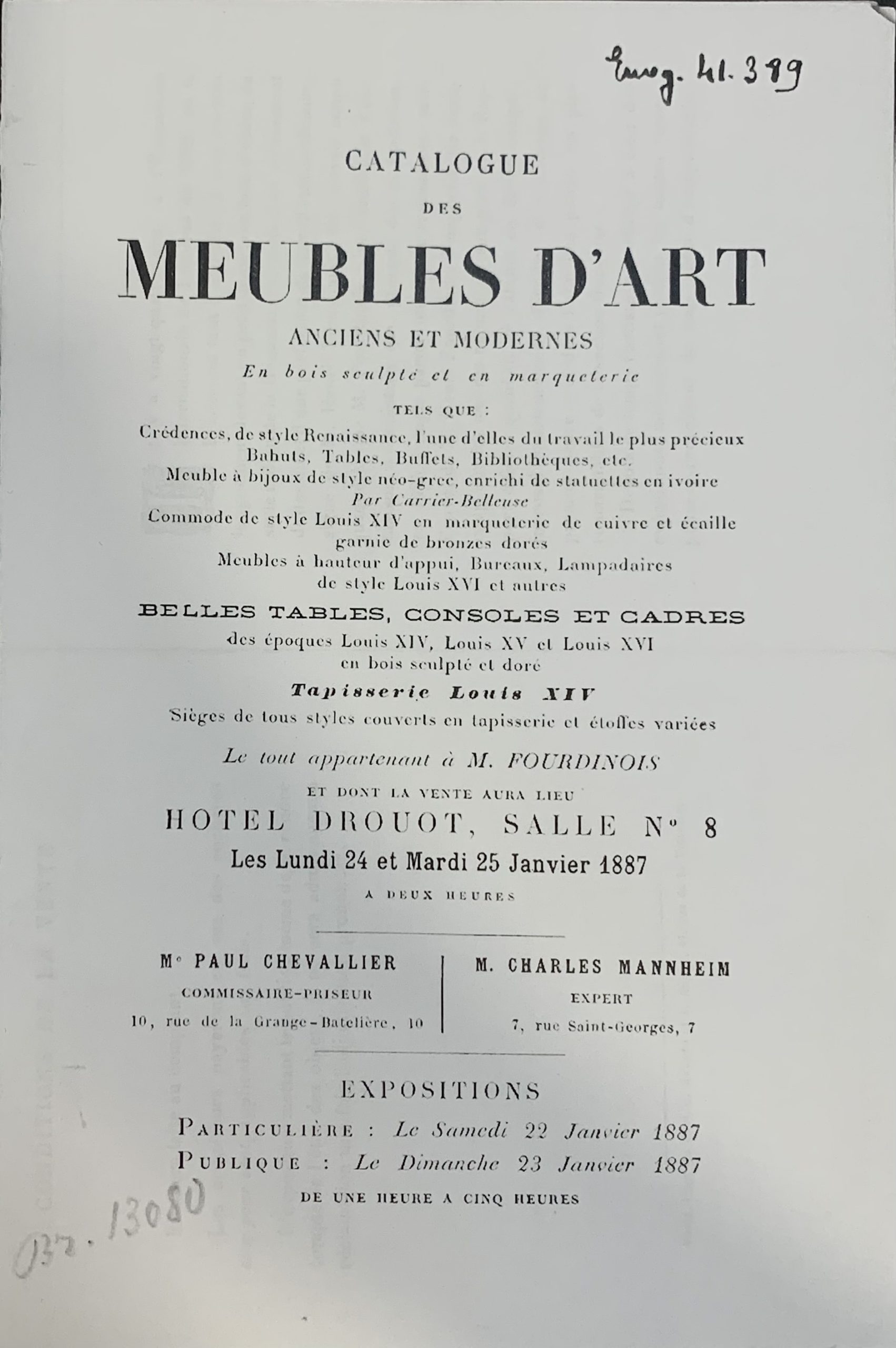 Page of the Fourdinois sale's catalogue at Drouot in 1887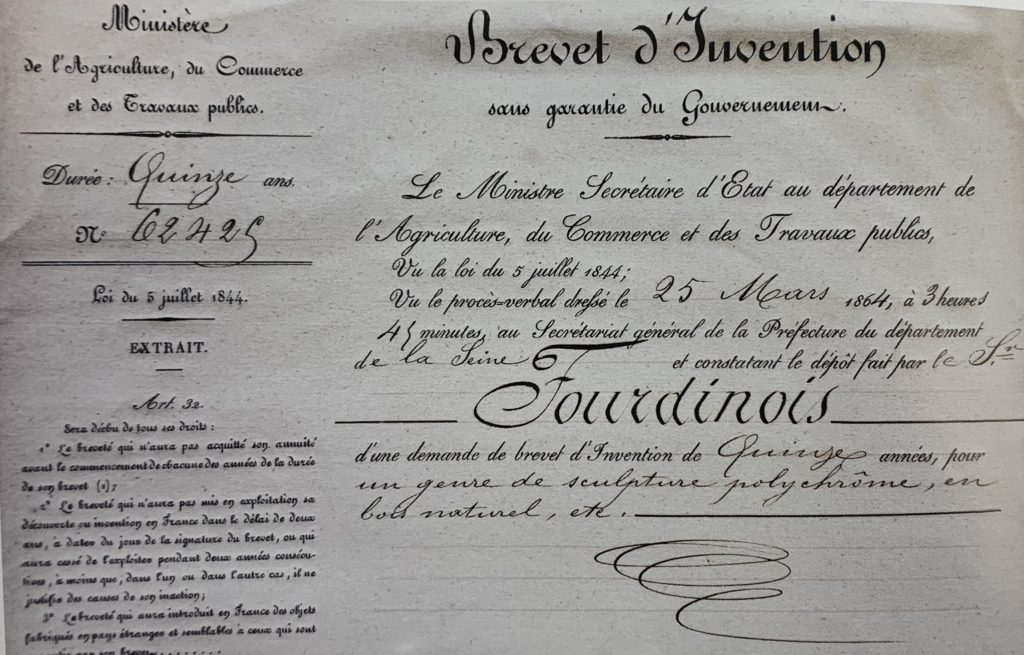 Henri Auguste Fourdinois, Patent for 15 years n°62425 from March 25th 1864. Paris, archives de l'Institut national de la propriété industrielle
Variant of the Patent
On the 25th of March 1864, Henri Fourdinois dépose un brevet pour un genre de sculpture polychrome en bois naturel, etc. Ce serait en travaillant dans l'atelier de son père, où il restaure des meubles anciens et réalise aussi des copies, qu'Henri Fourdinois imagine une nouvelle technique de marqueterie. Les marqueteries traditionnelles étant réalisées à l'aide de bois de placage fin, elles ne sont pas solidaires du bâti, s'abîment rapidement et peuvent se détacher. Il invente alors une manière de réunir les avantages de la sculpture et de la mosaïque, afin d'éviter les défauts du placage en faisant en sorte que les éléments incrustés fassent corps avec le fond et soient donc fixés plus solidement. Il s'agit d'incruster le bois dans toutes son épaisseur, ce qui permet de fouiller la sculpture : le sculpteur peut alors travailler sur la masse et obtenir alternativement reliefs et creux. Un peu comme la marqueterie Boulle, Fourdinois taille deux morceaux de couleurs différentes selon les mêmes motifs, dans toute l'épaisseur, tel un emporte-pièce.
Notre meuble présente une luxueuse variante de la technique originelle, puisque l'ébéniste réalise l'incrustation à l'aide d'argent sur la frise et les pilastres lui conférant ainsi toute sa rareté et préciosité.
Compliments in the newspaper
The importance of our cabinet, thanks to its exceptional realization, was many times praised in the contemporary newspaper, thus we can for instance read :
"Let's stop first affront of a delightful furniture, called jewelry chest. It is impossible to dream about something more fresh and elegant. Its drawers call for aristocratic hands. Mr. Fourdinois, that we accused to be a designer instead of a colorist, wanted to prove that the color is not scaring him not more than the lines ant that he knows how to let each speaks their own language (…) We are with a true museum piece." M.P.Rioux de Maillou in L'art, 1878
Speaking about the marquetry, "The same method was also applied by the creator to the metal objects, as testifies the wonderful jewelry chest that has brought to Mr. Fourdinois, the praises of all the 1878 International Exhibition's admirers". Georges Barral, "M.H. Fourdinois" in Le Travail. 
"The delightful cabinet, Greek style, very sage, very discreetly modernized- of Mr. Fourdinois has reveal to them a logic in the artistic composition out of their vision's way (…) They admired the elegant slenderness of the lapis lazuli columns, holding of the top delicious ivory figures profile so elegantly at each corner of the cabinet worthy of the boudoir of the most beautiful woman or a museum : the inlays – so finely cut that barely the line, which with a perfect regularity separates the different wood essence, is discernible with a magnifying glass – have interested their manual ability." Paul Dalloz, Moniteur Universel, 1st August, 1878.
"As for the jewelry chest, we know it has obtained the honors of the International Exhibition of 1878 (…). This delicious small furniture, true pearl in this exhibition full of pieces of art, was created with the rarest perfection, and all the decoration were imagined by Mr. J. Chéret."
Revue des Arts Décoratifs.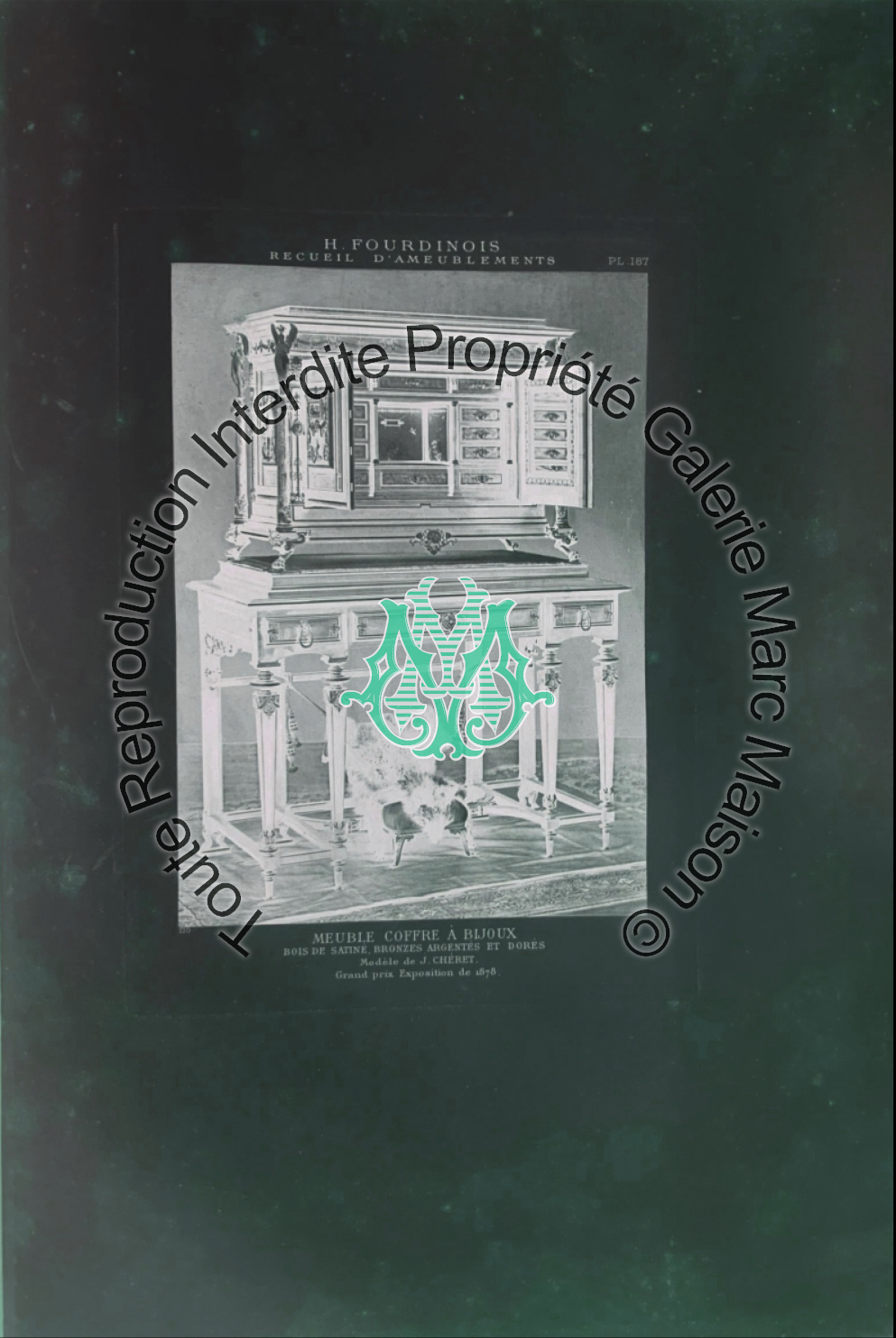 120 rue des Rosiers 93400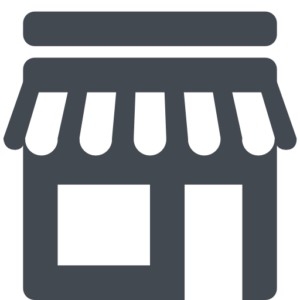 +33 (0)6 60 62 61 90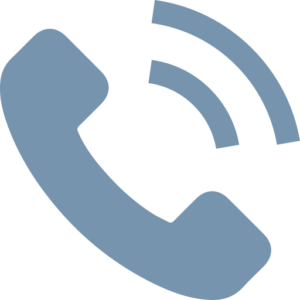 contact@marcmaison.com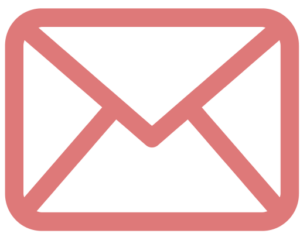 Copyright © Marc Maison | 2021
Politique de confidentialité